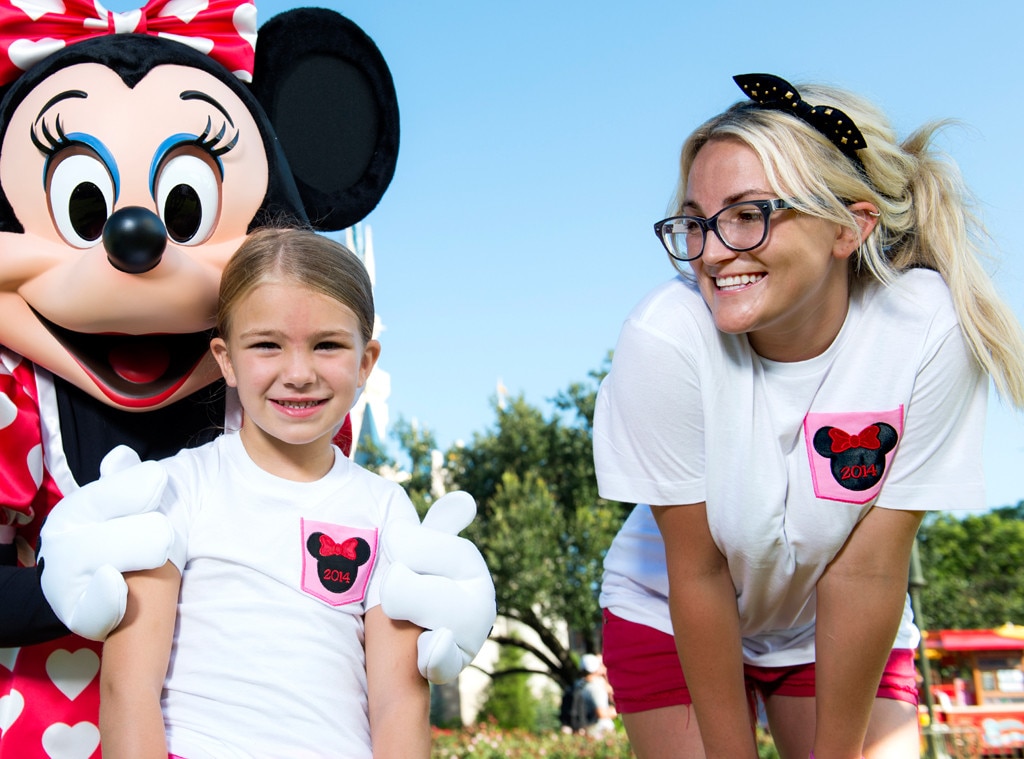 Chloe Rice/Disney Parks via Getty Images
The Spears family has a date with Mickey Mouse!
Jamie Lynn Spears brought her 8-year-old daughter Maddie Aldrige to Disney World on Monday, just one month after the little girl was released from the hospital following a terrifying ATV accident. Joining the mother-daughter duo in Orlando, Fla. was Maddie's aunt Britney Spears, as well as cousins Jayden James Federline, 10, Sean Preston Federline, 11, and 5-year-old Lexie. Britney and Jamie's mom Lynn Spears also attended.
An insider shares with E! News that the music superstar and her fam is in town for the grand opening week of Planet Hollywood Observatory at Disney Springs. The self-proclaimed Disney fanatics posed for photos on the red carpet, dressed in matching red Darth Vader T-shirts with each of their names splashed across them. 
After indulging in lunch, the entire group hit the park for a family-friendly celebration of classic Disney traditions. 
Jamie Lynn shared a few snapshots to her Instagram story, one of which featured Brit-Brit (who changed from a bohemian-inspired blouse and short-shorts into the Spears' family tee), Sean, Lexie and Maddie on the tea cup ride. The 25-year-old snapped a selfie with her nephew and hubby Jamie Watson from a separate tea cup in mid-spin. 
Since the February 6 accident that E! News confirmed initially left Maddie in "stable but critical condition," Jamie Lynn hasn't shied away from reflecting on her daughter's recovery. 
In an Instagram post shared from a close family friend's baptism, Spears expressed, "A month ago, at this time, I was living a mothers/anyones worst nightmare happening right infront of my eyes, helplessly…I'll never stop thanking each of you for your prayers, because we recognize the miracle it created. We are beyond blessed, and we will NEVER forget y'all, and God's unbelievable mercy."
Enjoy the day, Spears fam!