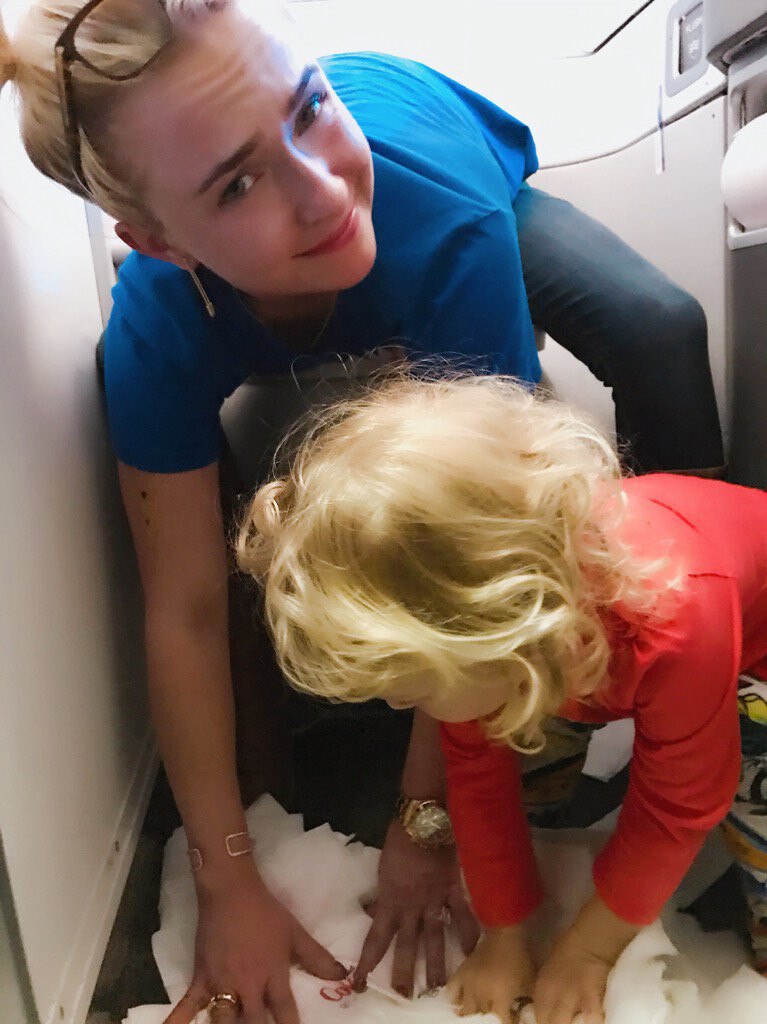 Twitter
In the real world, motherhood can get a bit messy. And surprise! Celebrities are no exception. 
Hayden Panettiereis the latest Hollywood mom to expose the less-than glamorous side of raising kids, this time when 2-year-old Kaya Klitschko had an accident mid-flight. Suffice to say, the Nashville star handled the sitch like a pro, simultaneously finding the silver lining and teaching her little girl a valuable lesson in cleanliness. 
Alongside a snapshot of the mother-daughter duo wiping the floor inside the plane's lavatory, Hayden tweeted, "Aaaand then ur daughter pees on the floor of the airplane bathroom But look at that baby girl helping momma clean"
Panettiere's candid confession got us thinking: How many more celeb moms have mastered travel troubles with a smile? Let's look at four more hot mamas making the friendly skies a bit more friendly, crying babies and all. 
Chrissy Teigen: By now, pop culture fanatics have come to adore Chrissy's honest approach to raising her daughter Luna with husband John Legend, and for good reason! Conversing with People, the Lip Sync Battle host reflected on the first and second-ever trip she took with Luna, admitting she "got cocky" when their inaugural family trip to Europe "went really well." 
But when Chrissy and Luna embarked on their first getaway sans John, things went awry. "She lost it for about five hours straight," Teigen admitted. But lucky for Chrissy, she was surrounded by a crew of flight attendants more than willing to offer a helping hand. She added, "I swear to god, every flight attendant had at least like three or four kids, so they were passing her around. Everyone was trying something. They were so sweet about it because I was mortified."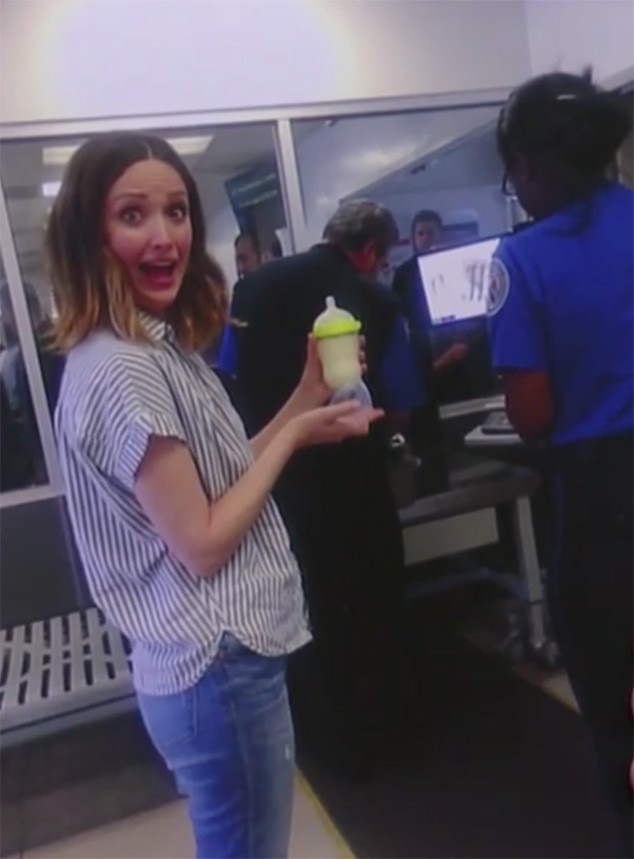 YouTube
Rose Byrne: A few months after the Aussie actress welcomed her first son with Bobby Cannavale, she stopped by The Late Show With Stephen Colbert to talk TSA confiscating her breast milk. 
Rose shared, "It takes a long time to leave the house, maybe an hour, hour and 45 minutes just to get out the door. To do anything, you have to bring so many things with you… Then when you get out, then he just throws up everywhere or takes a big poop, and you've got to go back inside again."
"I've been doing a lot of traveling, too, so I've been taking my breast milk everywhere with me," Rose added. "They wave this weird thing over the top of it and there's a whole production going on. They take it very seriously that it could be something. I just stand there and smile and tell them that it's really breast milk and that it's nothing."
Smile and node, Rose. Just smile and nod. 
Drew Barrymore: Even the best of us need some post-vacation R&R, especially after traveling with little ones. And Drew is the first to admit jetsetting to the Most Magical Place on Earth is trickier than it might seem. During an appearance on Late Night With Seth Meyers, the actress dished on her daughters' her daughters Olive Kopelman, 5, and Frankie Kopelman, 2, recent trip to Disney World. 
She recalled, "Frankie, every day since we've gone there, wants to go to Disney World. I try to talk to her rationally, like, 'But we have to go to Delta at LaGuardia and get back on the plane and go to Orlando. It's going to be hard to get to Disney World now.'" But even though the Santa Clarita Diet star remembers it as "the best experience ever," Barrymore also shared, "If you've ever taken your kid to Disneyland or Disney World, it all ends at some point in mayhem."
Cue the photographic evidence of Olive throwing a tantrum at both locations, and then there's Drew posing nearby. In her words, "I say just let 'em chase it and see what happens." Our thoughts exactly. 
Kristen Bell: Need spot-on advice on how to handle your kids' meltdowns that happen in the most perfectly inconvenient locations at the most perfectly inconvenient times? Just ask Dax Shepard's lovely lady. The mom of two spoke to Babble about keeping calm when temper tantrums ensue: "If my child is acting a fool in the grocery store, the embarrassment is on her. In truth, that shouldn't make me feel a certain way."
The actress then explained, "She's going to act the way a child acts, and I'm not going to let that reflect on me or bring me down. That shouldn't make me feel ashamed or embarrassed in any way. Only you can make you feel a certain way."
Talk about a rad group of mommy superheroes!